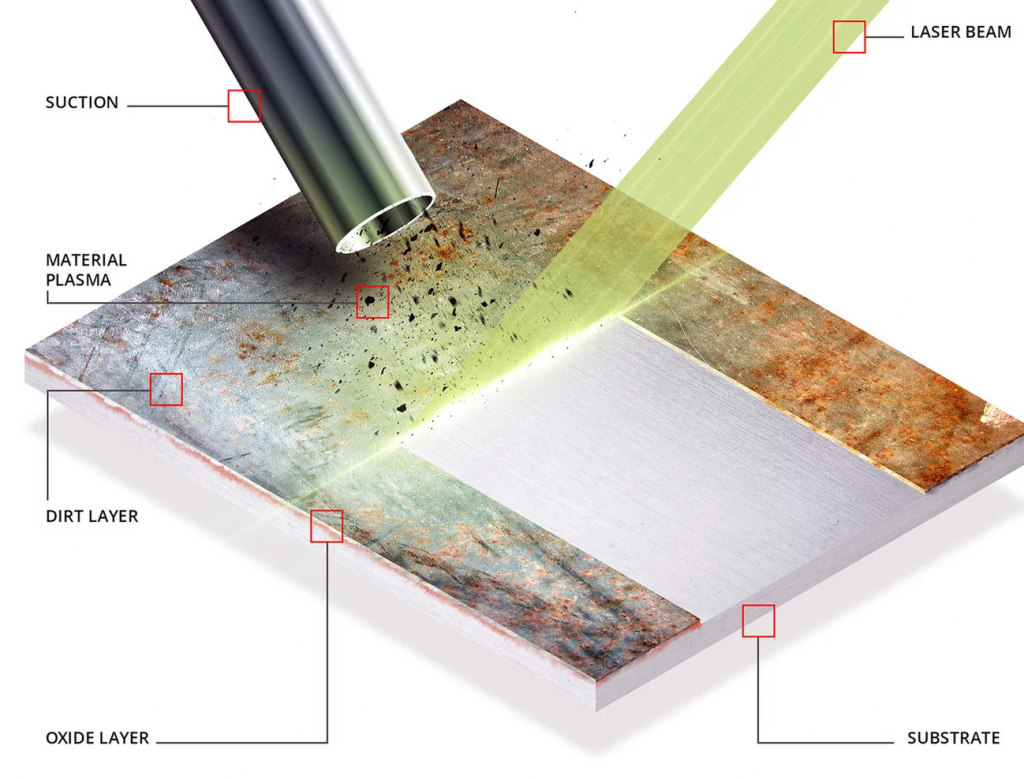 LASERABLATION
Laser cleaning is the phenomenon of precise coating removal by irradiating it with a laser beam. As a result of contact with the surface of matter, energy is exchanged. Then there is selective evaporation of different types of layers. Laser ablation acts on the surface of an object and removes material from that surface with an absolute minimum of interference. The level can be easily changed and adjusted depending on the material, the intensity of the laser beam, the pulse length and the wavelength of the laser used.
Removal of a wide range of materials such as heavy metals, paints, corrosion, lubricants and industrial compounds.
After appropriate selection of the so-called current density, one can safely and precisely remove contamination from virtually all surfaces.
SEE HOW LASER TECHNOLOGY ASSISTS AND FACILITATES WITHIN VARIOUS INDUSTRIES
SEE HOW LASER TECHNOLOGY
ASSISTS AND FACILITATES
WITHIN VARIOUS INDUSTRIES
MATERIAL ENGINERING
Laser ablation is not only removing contaminants, but also preparing the surface before processes such as gluing, painting or surface finishing after welding processes, etc. Our technology perfectly supports the processes occurring in various important industries:
REMOVAL OF CORROSION, VARNISH AND PAINT

RESTORATION OF MACHINES, AGGREGATES AND INSTRUMENTS

DEGREASING AND REMOVAL OF LUBRICANTS

PRE-TREATMENT AND POST-TREATMENT OF SURFACES
SURFACE PASSIVATION AFTER THE WELDING PROCESS

CLEANING AND STRUCTURING THE SURFACE BEFORE PAINTING
MONUMENT CONSERVATION
AND CARE
In contrast to alternative cleaning methods, laser ablation allows to control the thickness of the removed layer of impurities, providing a refreshing effect, instead of novelty. This result is desirable among archaeologists and monument conservators.
RENOVATION OF SCULPTURES MADE OF STONE AND VARIOUS METALS

CLEANING AND REVEALING OF PAINTED POLYCHROME
AUTOMOTIVE INDUSTRY
Application in pre-processing and post-processing:
REMOVAL OF OXIDIZED TOP LAYERS

SURFACE TREATMENT BEFORE JOINING PROCESSES AND WELDING CLEANING
FOOD INDUSTRY
The cleanliness of laser cleaning process allows for cleaning of elements without disassembling them, while the high temperature of the cleaned surface increases the efficiency of this process:
CLEANING OF WAFFLE BAKING MOLDS

CLEANING OF CONVEYOR BELTS
RUBBER INDUSTRY
Mobile laser systems are perfect for cleaning molds with complex geometry. Not using abrasives minimizes the cost of cleaning. Surface after laser cleaning meets most of the exceptional roughness standards set for molds in a given production process.
CLEANING OF FOUNDRY MOLDS
PRINTING INDUSTRY
The elimination of chemical cleaning means cleanliness of the process and at the same time better cleaning quality, which extends the maintenance period of the equipment components.
RENOVATION OF ANILOX ROLLS
ENVIRONMENTALLY FRIENDLY
Laser ablation is a much more cost effective and environmentally friendly removal technique than any other abrasive or chemical blowing method. You do not need abrasives, solvents or chemicals. Fiber lasers also have other environmental benefits compared to other types of laser cleaning processes:
Energy consumption has a much lower speed as a fiber laser is about twenty times more
efficient than its crystal or laser gas counterparts.
Fiber lasers do not use gas consumed during operation, as it is the case with their
counterparts.
THE PRINCIPLE OF REPAIR - ABLATION
As a result of the laser beam contact with the surface of the material, energy is exchanged between the laser light used and the material to be cleaned. Laser ablation is based on the fact that as a result of irradiation of the surface of materials, by using a laser radiation pulse with appropriate energy density in time (power density), different types of layers evaporate selectively.
The parameters of the laser beam can be programmed in such a way that individual pulses partially overlap and hit each other, or that there are spaces between them.
WHY CHOOSE THE LASER FROM OTHER METHODS?
Recently, the demand for new solutions that improve the quality of surface cleaning has grown. We mean not only the end result, but also the course of the process itself. Whether we are talking about antique cleaning, commercial or industrial, there is currently a lot of pressure in the hunt for new, efficient technologies. Many solutions currently available on the market do not meet customer expectations. The most popular methods, i.e. dry-ice blasting and sandblasting, due to, among other things, its labor consumption, invasiveness or the problem of use in industrial processes, are in many cases impossible to use. In addition, current EU regulations significantly limit the use of this technology.
THE ADVANTAGE OF LASER CLEANING FRONT SANDBLASTING
There is a large number of companies in the Norwegian and foreign market that offer sandblasting as a solution for companies and individuals, who want to remove paint and old coatings. Below we present the advantages of our technology compared to more traditional methods, which will show why laser cleaning is better than abrasive blasting:
Advanced rusting usually compromises the structural integrity of the material. The rust formation process, once it begins, never stops. Although no more than a little water, oxygen and a metal surface are needed to stimulate the formation, nothing has yet been invented to stop it.

The problem is exacerbated in the case of sensitive materials that require periodic treatments to remove rust and its various residues. No one wants to expose them to a process that can deform or even cause holes in the surface. In such a case, the alternative method of using a laser to remove the rust becomes particularly attractive. This option allows you to reliably remove traces of old coatings and paints, but without the risk of damaging even the most sensitive surface. An additional advantage is the "cleanliness" of the process and no need to protect the workplace from unwanted sand particles. As a result, we can get all the benefits of sandblasting, without the risk of injury, while keeping the workplace clean.
Safe laser cleaning is guaranteed due to the fact that no additional abrasives are applied to the cleaned surface.
When sandblasting - the high-pressure nozzle of the unit throws small grains on the surface, which are rubbed off the coating or paint. Of course, these grains are also responsible for the above damages.
What does it look like with a laser? There is no abrasive when cleaning with a laser. Depending on the selected parameters, we cover the material with a series of light pulses with a force and energy that is appropriately selected for the material. Ultimately, we get a safer, more streamlined and highly repeatable process.
PRECISION, VERSATILITY AND REPETITIBILITY OF THE PROCESS
Sandblasting can be a precision technology, we will not deny it. However, this traditional method loses the potential that the laser offers. The operator can focus on very specific areas, which means that we can ensure that only those pieces we want to clean are affected.
Our devices are controlled in real time, which means they can be easily adjusted as needed. Automating the process will not be difficult for us either. Thanks to laser cleaning, we even have control over the ablation depth. We can accurately remove the problematic coating in many ways, in precisely defined areas that need it, without affecting others who do not.
LOW MAINTENANCE, HIGH PERFORMANCE
With high prices for electricity, water and compressed air, low operating costs are crucial for anyone considering buying such a device or using laser services. For this reason, it is very important that the laser does not require external materials for proper operation, thanks to the fact that the costs in terms of maintenance and operation are very low.
Where can a laser be used?
Laser rust removal is just one application.
Thanks to its advantages, this technology is perfect for surface cleaning, paint removal, spray mold cleaning, sandstone, brick, and all kinds of antique details. The laser selectively removes different types of impurities layer by layer. It can develop the surface, polish and process not only metal details, but also composites, paper and many other materials.
Depending on your needs, sandblasting can still be a viable alternative to laser cleaning.
Therefore, to understand which method may be best for you, it is worth contacting professionals. They will offer their knowledge and provide reliable answers to all questions, thanks to which you will learn more about this technology and how to use it.